Paws-ing for Love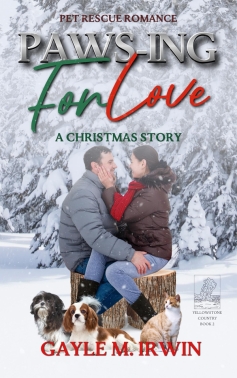 A Pet Rescue Romance Christmas Story
Published by Waggin' Tales Inspirational Pet Storites
If you enjoy Hallmark Christmas movies, you'll enjoy this story! Set in Montana, a beautiful place to spend the holiday season!

"Nice and heart catching romance. Educational re pet rescues. Likable human and animal characters. A satisfying and happy ending and holiday." - Amazon Review

Christmas Hope or Heartbreak?
Colter, Montana waltzes in brilliance during winter, with glistening snow on mountain peaks and diamond-like frost on trees and rivers. Romance and dreams flourish in this Christmas card setting. However, news of friends missing after a raging blizzard and a later accident and subsequent illness disrupt the lives of Rhiann and Levi Butler, who operate a horse ranch and pet rescue sanctuary. Will the joy of Christmas be silenced or strengthened after a pair of stray animals take refuge at the Butlers' property? Can a cat named Mina and a Corgi christened Maverick deliver hope or will they add more heartache for a couple and community struggling with fear and sorrow?
150 pages | $9.99 USD | 5.25x8 | 979-8201344412 | November 2, 2021