Rescue Road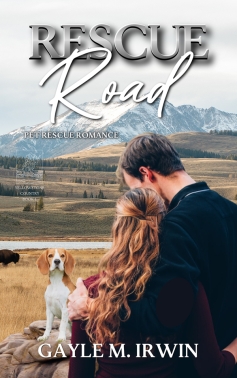 Published by Waggin' Tales Inspirational Pet Stories
Amazon Reviews:
"What a clever idea for a sweet, clean romance. Bringing people together through rescue pets, second chances for both pets and people."

"I am not one who usually reads romance stories but the cover and the title of Gayle's novel had me curious. I love how she invited us into the story with the fact that it was a 'clean romance'. So may romance books, movies, and TV shows these days are full of sorted details and raw scenes and language that they can actually turn people off to what real romance is all about. Rescue Road was a wonderful and refreshing story that took place in beautiful Montana. The main characters, Rhiann and Levi, were people I could relate to and cheer on. And through it all, the twists and turns served to surprise me each time and encouraged me to read on to find out what happened. This was a great story that pulled me in with the turn of each page and never distracted me from what a good and healthy romance can really look like, even in difficult situations. Bad guys as well as decent people surfaced throughout the story and the heartwarming comparison of dog rescuing to people rescuing shines through. I am looking forward to reading Gayle's next book in the series."

"Great story line! Rescue Road is a story with romance, drama, and intrigue. I wanted to keep turning the pages to see what happens next. There's a lot of rescuing going on, between the people and with the dogs. And pet adoption is a large part of the story, and that's something I advocate and support. I've read other stories Gayle has created and I find her writing very engaging. If you enjoy light and clean romance and like dogs, you'll love this book!"

300 pages | $12.99 USD | 5.25x7.5 | https://www.amazon.com/gp/product/B07ZCDNFB6/ref=dbs_a_def_rwt_hsch_vapi_tkin_p1_i1 | October 30, 2019
https://www.youtube.com/watch?v=PQ05KDARQSA