Love Takes Flight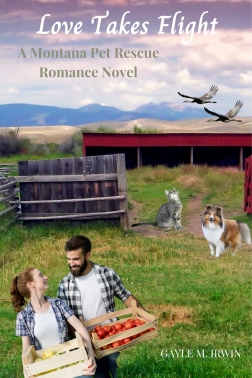 A Montana Pet Rescue Romance
Published by Waggin' Tales Inspirational Pet Storites
Events from the past could destroy their present and future.
Eleanor "Ellie" Davis inherited her grandparents' farm in western Montana. Her vision, to continue the fruit and vegetable growing and selling legacy and to add a rescued animal program, is threatened by her dad, who wants to sell the property. The rift between them widens after Ellie discovers her money-driven dad attempted to obtain the land in secret. When she connects with a local wildlife biologist over a mutual love for the land, Ellie discovers an ally in her quest to keep the farm ... and maybe something more. However, an event from her past adds to Ellie's concerns about the future.
Nathan Ford's job as a federal biologist involves behavioral studies of the wildlife found at two different refuges in the region. He discovers more sandhill cranes than previously documented in the area during the past 20 years, and that work brings Ellie into his life. Nathan falls fast for the granddaughter of a friend whose funeral Nathan could not attend because of something he prefers to leave in the past. When he learns of Ellie's desires for the farm and the opposition she faces from her father, Nathan determines to help her fulfill her dream – but revealing a part of his life he would rather forget is a task he's hesitant to tackle.

When their challenging pasts are finally revealed, will Ellie and Nathan's new-found love shrivel like a prairie flower during a drought or grow, strengthen, and take flight like a young bird?
A sweet, contemporary romance about forgiveness and healing that weaves pet rescue and family saga into the love story.
180 pages | $1.99 USD | 9798223486091 | August 1, 2023