Walking in Trust: Lessons Learned With My Blind Dog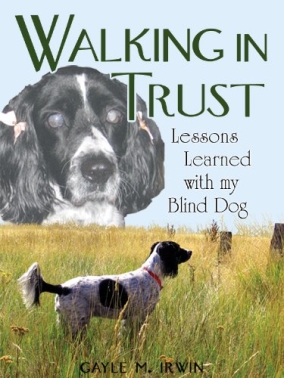 Published by Cladach
Can a blind dog be good for anything? YES! In addition to companionship and love, Sage taught the author and her family many valuable lessons.
Chapter titles include: Patience, Wisdom, Obedience, Forgiveness, Purity, Friendship, Courage, Loyalty, Confidence, Joy, Compassion, Humility, Mystery, Goodness, Praise, Generosity, Love, Faithful, Respect, Self-Control, Contentment, Gentleness, Kindness, Hope, Peace, Reliable, Trust, Rest, Gratitude, Perseverance. Thirty topical chapters lend themselves to a month of daily readings.

Amazon Reviews:
"I loved Sage's adventures. As a dog lover, I truly appreciated the bond between Sage and Gayle. I think she was lucky to get the Mom and Dad she ended up with. You could feel the love she had for her dog. I took a spiritual lesson away with each chapter. This is a wonderful devotional book that compares the love and escapades of Sage to the escapades of humans. God sees us as Gayle saw Sage with awe and approval. Gayle did a great job in tying Sage's adventures into Bible principles and scriptures. Gayle expects a little more from her pet and she gets it. Sage stepped up to the challenges of life and we should step up to our challenges too. Spending time in this book with Gayle and her blind dog, Sage, will help you listen more closely to what Creator God may be saying to you through your experience of the world around you."

"I read this book during Lent, and found much hope, wisdom, guidance, and comfort in it. Gayle Irwin gives the reader plenty to think about, so I think reading it in short bursts and chewing it over is ideal. This is a book that those trying grow in faith and mature Christians alike, and especially dog lovers will cherish."

"'Walking in Trust' is an encouraging signpost along that narrow, winding road in our walk with Christ and a reason to have a whole new appreciation of that four-legged creature that awaits us at home."

208 pages | $14.99 USD | 978-0981892962 | October 12, 2012
https://www.youtube.com/watch?v=4dIxQBXxnGs