Make Your Mark - Your Message Matters!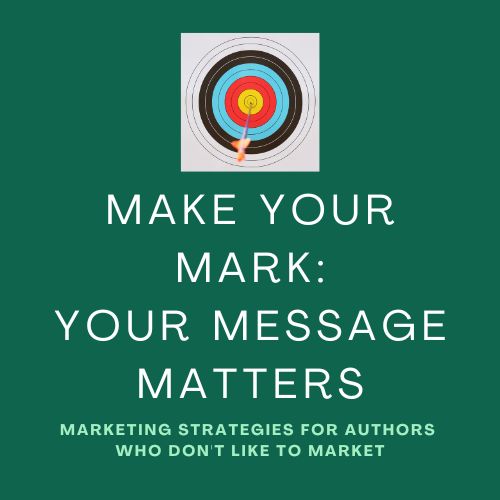 Authors and writers have messages they want to share, whether through fiction and/or nonfiction books, essays, articles, social media posts, blog posts, or other communication outlets. However, letting readers know you exist can be challenging ... and time-consuming.
Are you a writer or author who doesn't like to market? I can help!

My service program, Make Your Mark - Your Message Matters, helps authors and writers make their mark on the world through website content, social media and blog posts (including finding guest blog opportunities), and other marketing endeavors. As an Author Assistant, I help create content to shout your message, and presence, to the world!

I'm not only an author and freelance writer, but I'm also a communications specialist, having conducted my own public relations, media outreach, and marketing endeavors as well as assisted non-profits and for-profit businesses with their communications programs. I enjoy helping people, especially new authors, as I've been there, done that. And, I'd like to help you!

Service Samples:
Blog Posts - for your site or guest posting
Email List Start-up
Email List Building
Newsletter
Content
Social Media Posts
Press Release Creation and Distribution

Know About Book Funnel?
I've increased my email subscriber list from 200 to nearly 1,700 and experienced sales by double and triple some months primarily using BookFunnel.com. This incredible service is an author's ally! I can help you increase your newsletter list and book sales through Book Funnel if you don't want to learn another platform -- or if you simily want help getting started.
Curious? Interested? Contact me to talk about your marketing needs and how I can help.