All the Pretty Horses

My father has always been a big fan of horses – he had a horse of his own as a teenager growing up in Louisiana, and he thought I should have one when I was about 12 years old. However, sadly, he purchased a horse that wasn't completely broke, and after being bucked off a few times, I was not a fan; "Dusty" was sold to someone who had the time and patience to work with her.
From that experience, I carried a fear of horses, and though I learned to appreciate them as a young woman when my father brought home "Candy" and then later, "Scout," I rarely rode again.
Now that I'm nearly 62 years of age, I regret letting so much time go by and not getting back on a horse more often. During travels, I see so many stunning horses in pastures and I watch people on trail rides, wishing I'd done the same. My bucket list for after retirement includes riding a horse a few times.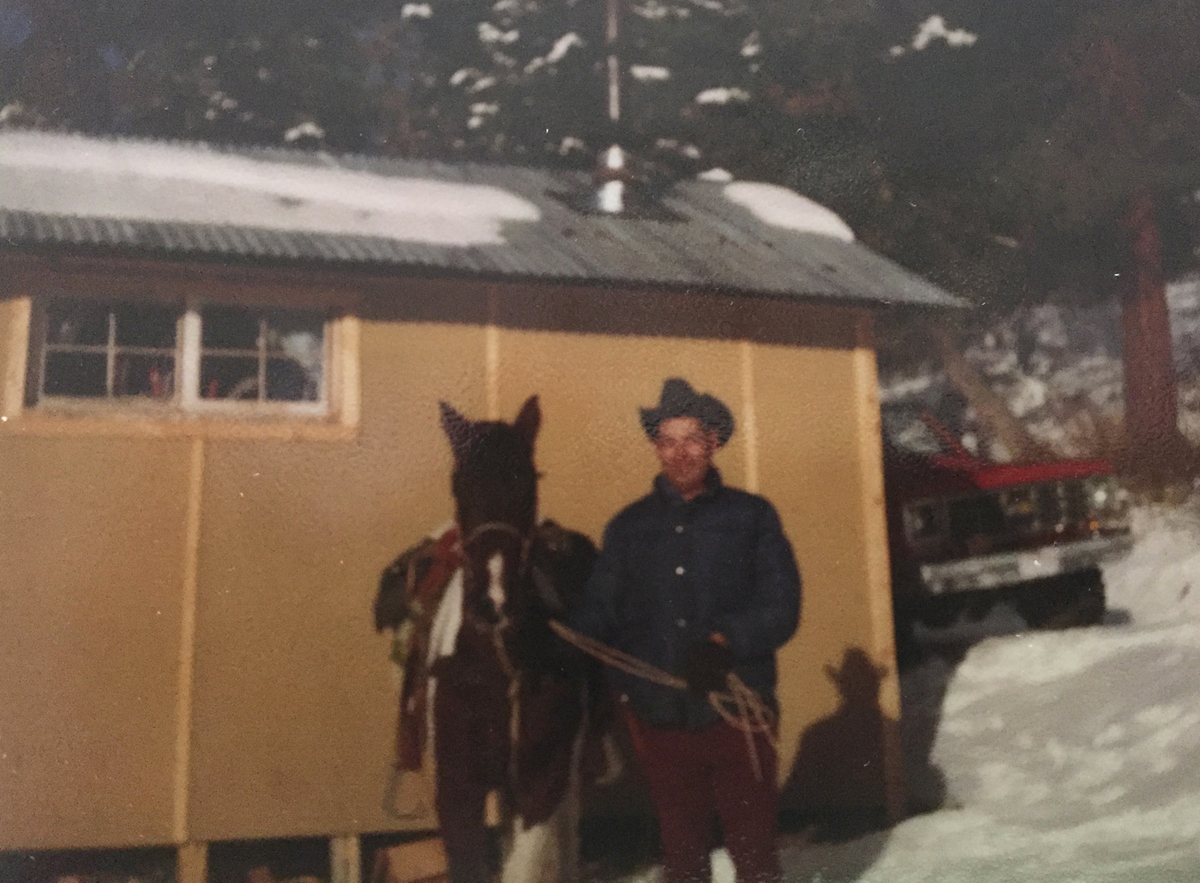 Horses often play a part in helping people heal from trauma. I met a woman earlier this year who used her horses in her counseling and therapy practice. She described how men and women, even children, connected with the animals simply through brushing their coats and walking them around the barn and outside corrals. People often feel freer to share thoughts and secrets with animals, like horses and dogs, than they do with other human beings.
Living in Wyoming, I've been blessed to view wild horses in different areas of the state. (Note: some people, including government officials, call them 'feral horses' because technically they aren't wildlife like elk and deer, and they aren't owned by any rancher). Many of these animals come from a lineage of Spanish explorers, or in the case of burros, from the gold and silver mining days of the 1800s. One group of horses in northern Wyoming, called the McCullough herd, may have come from Buffalo Bill Cody's stock, including a horse given to him by the Queen of England -- genetics, according to a person I spoke with earlier this month, traces some horses in that herd's heritage back to the Queen's stock.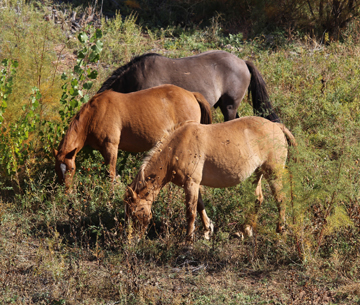 The Pryor Mountain horses are fairly famous, most notably a stallion that lived for decades named Cloud. My husband and I visited the area where these horses live, and we were fortunate to see two different groups by a watering hole and later that day, one small herd ate grass right next to the highway.
I'm in awe of these magnificent creatures. So are many other people. However, some … not so much.
Wild horse herds are 'managed' by the Bureau of Land Management, a federal agency that's part of the Department of Interior. The BLM, as the agency's acronym goes, oversees public lands not administered by other agencies, such as the U.S. Forest Service and National Park Service. Millions of acres of western lands fall under BLM jurisdiction; wild horse herds are part of that. BLM lands are supposedly managed as "multiple use," which means recreation, energy development, wildlife, and grazing, among other activities; these uses are to integrate – no one is more privileged than the other.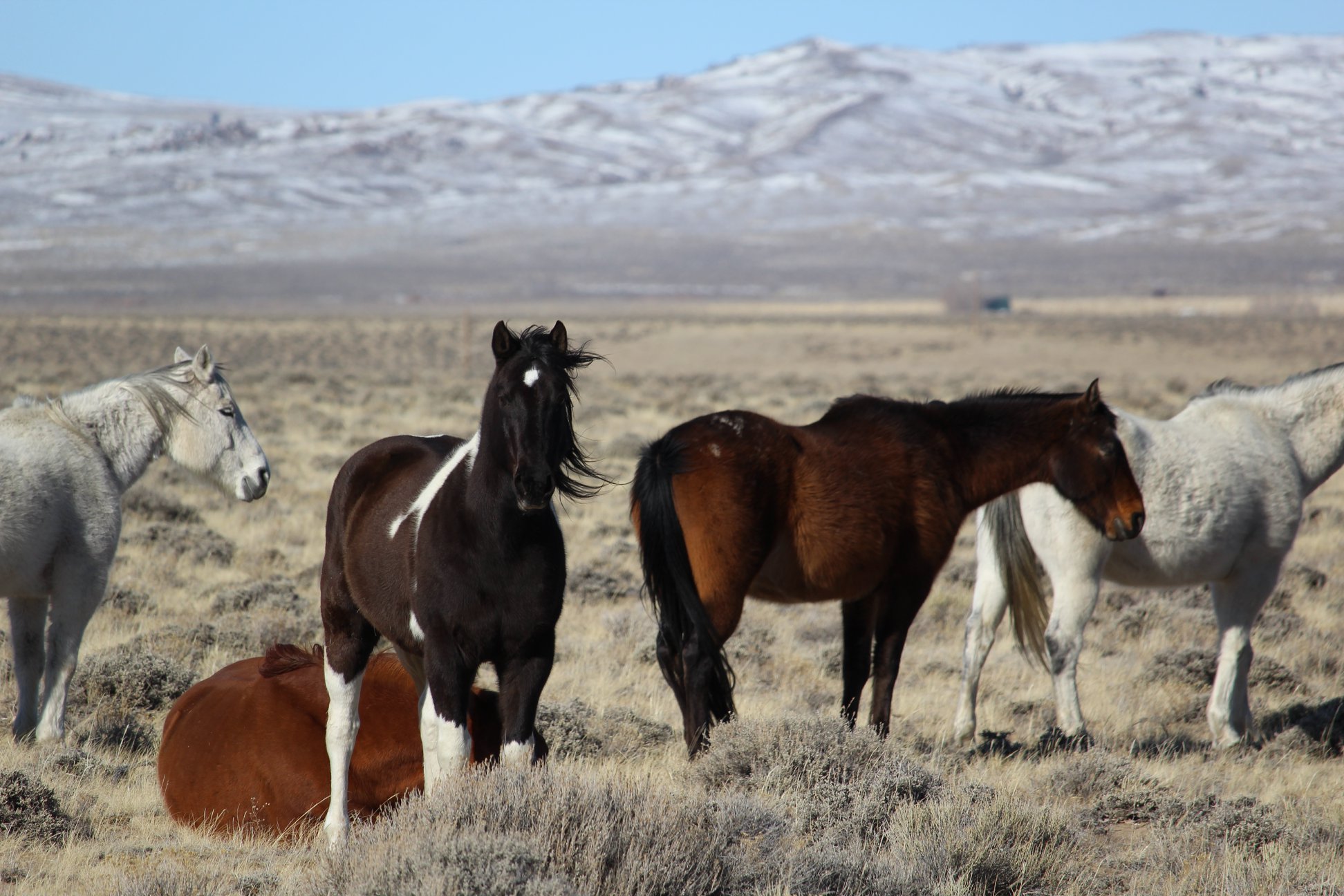 However, when it comes to wild horses, such 'management' is not equitable. Thousands of wild horses in Wyoming, Colorado, Nevada are and have been rounded up and placed in holding pens; many have died. These roundups often include using helicopters to run the animals to the point of death in some cases, including in Wyoming.
Groups and individuals have called out this practice as inhumane, especially in light of so many animals' deaths in 2022. Animals that once roamed free, sharing the landscape with other creatures, including cattle, are now in stockyard-like facilities and many have become sick, and, as noted earlier, many have died. A few horses will be adopted; most will not. What will happen to these horses is not known.
I once lived in grizzly bear and bison country near Yellowstone National Park. Attitudes towards these animals was similar – get rid of the bears (and wolves) and bison and give higher precedence to cattle, even on public lands. Forest Service and BLM lands are PUBLIC, which means I have as much say as any rancher, hunter, or agency personnel. Sadly, that doesn't seem to be the case. Some people, even with the BLM agency, call for the total removal of wild horses in certain areas.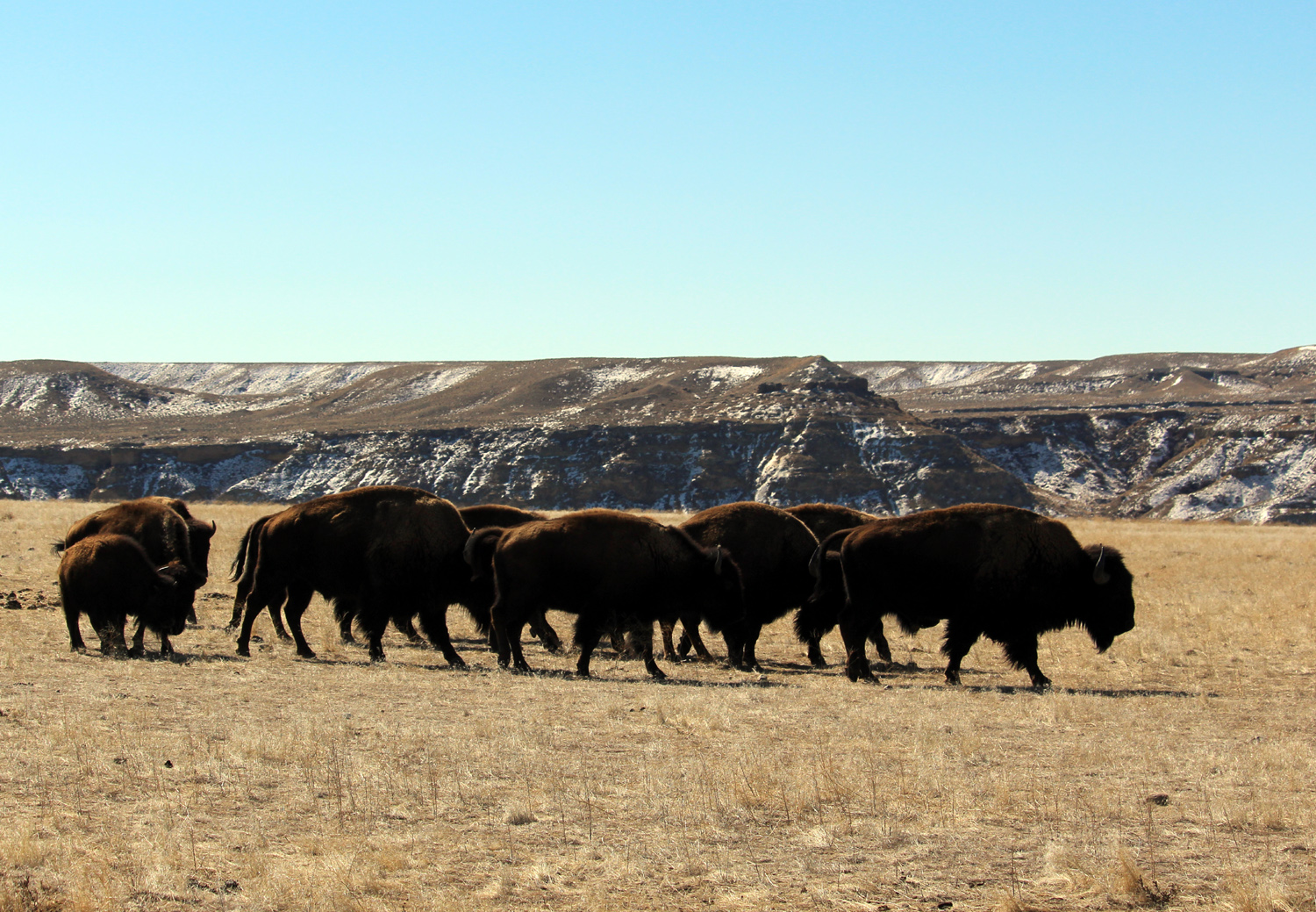 Drought across the western plays a crucial factor in how much grazing range is available; however, wild horses seem to be the losers instead of an equitable sharing of space with domesticated livestock, like cattle and sheep, and wildlife, like mule deer and pronghorn.
Advocacy for horse equitability is back on the front lines just as it was during the 1950s and 1960s when BLM sought to eliminate wild horses from the landscape. A group of citizens appealed to federal agency higher-ups … and the end result was a complete strategy change.
In September 1968, then Secretary of the Interior Stewart Udall established the first wild horse management area: The Pryor Mountain Wild Horse Range which covers acreage in Wyoming and Montana. The Wild Free-Roaming Horses and Burros Act was passed three years later, protecting these amazing creatures that live wild because of no fault of their own. They are part of the western landscape … and should be forever. Maybe their ancestors came from ranch stock that escaped, from Spanish explorers and gold miners who set their horses and burros free, or from Native tribes attacked by one another and by white soldiers. However, these thousands of animals came to be on the landscape today, all they have known is wildness, and their majesty as manes blow in the wind, as foals lope beside mustang mothers, and as bonds holding herds together are witnessed, the beauty of the west is more glorious because of wild horses … and horses on a hillside pasture.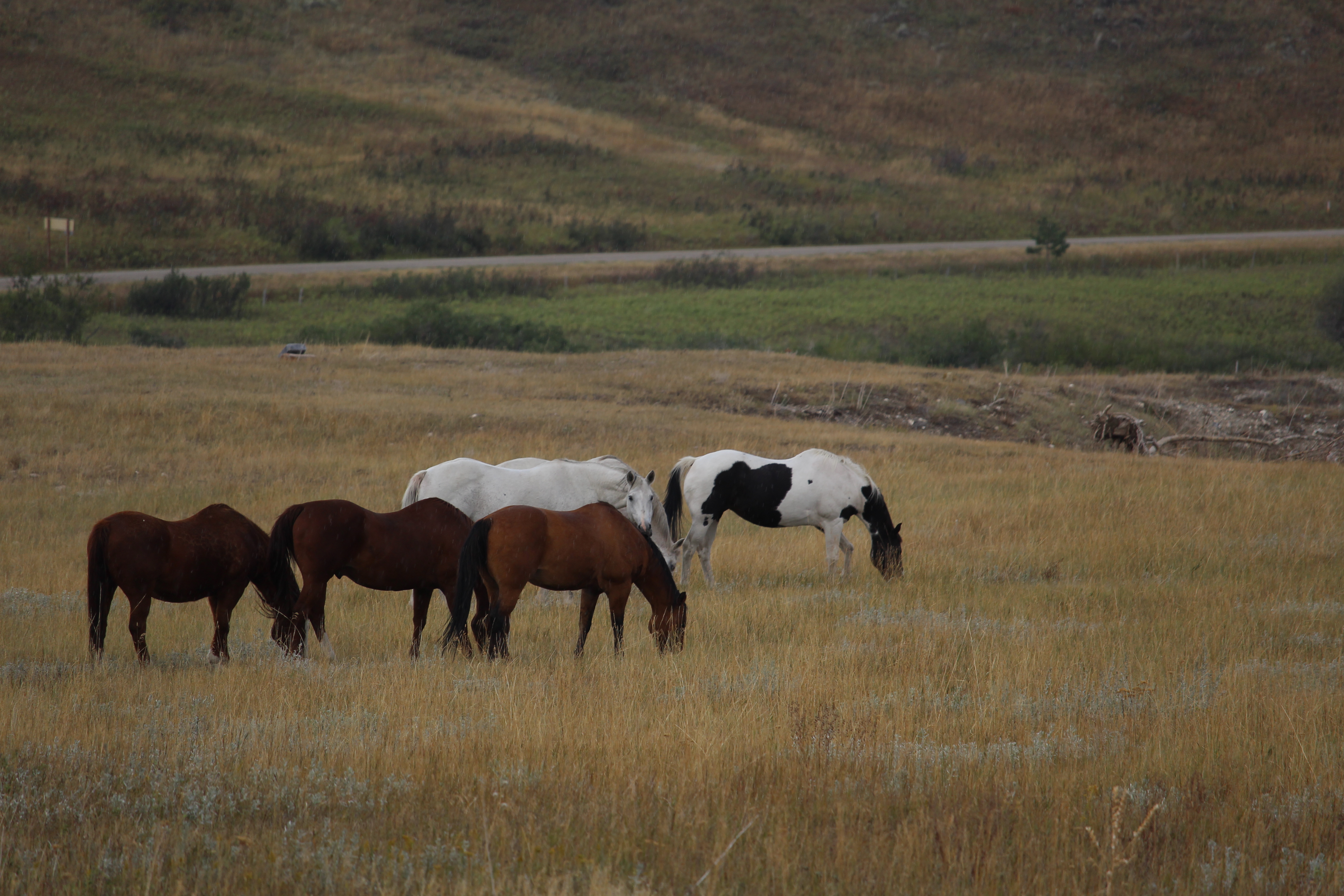 Several "Friends Groups" come alongside the wild horse herds to help educate people and assist the BLM in numerous ways. Becoming a member of one of these groups, FOAL, the Wild Mustang Center, Wyoming Mustang Institute, and the Cloud Foundation, for example, is one way we can all come alongside the horses to advocate for their proper care and management.
Horses beckon the human spirit as do many other animals. I hope their magic continues both in the wild and within the parameters of domestication. For yes, I do want to ride a horse again, and I want to continue viewing wild ones on the plains.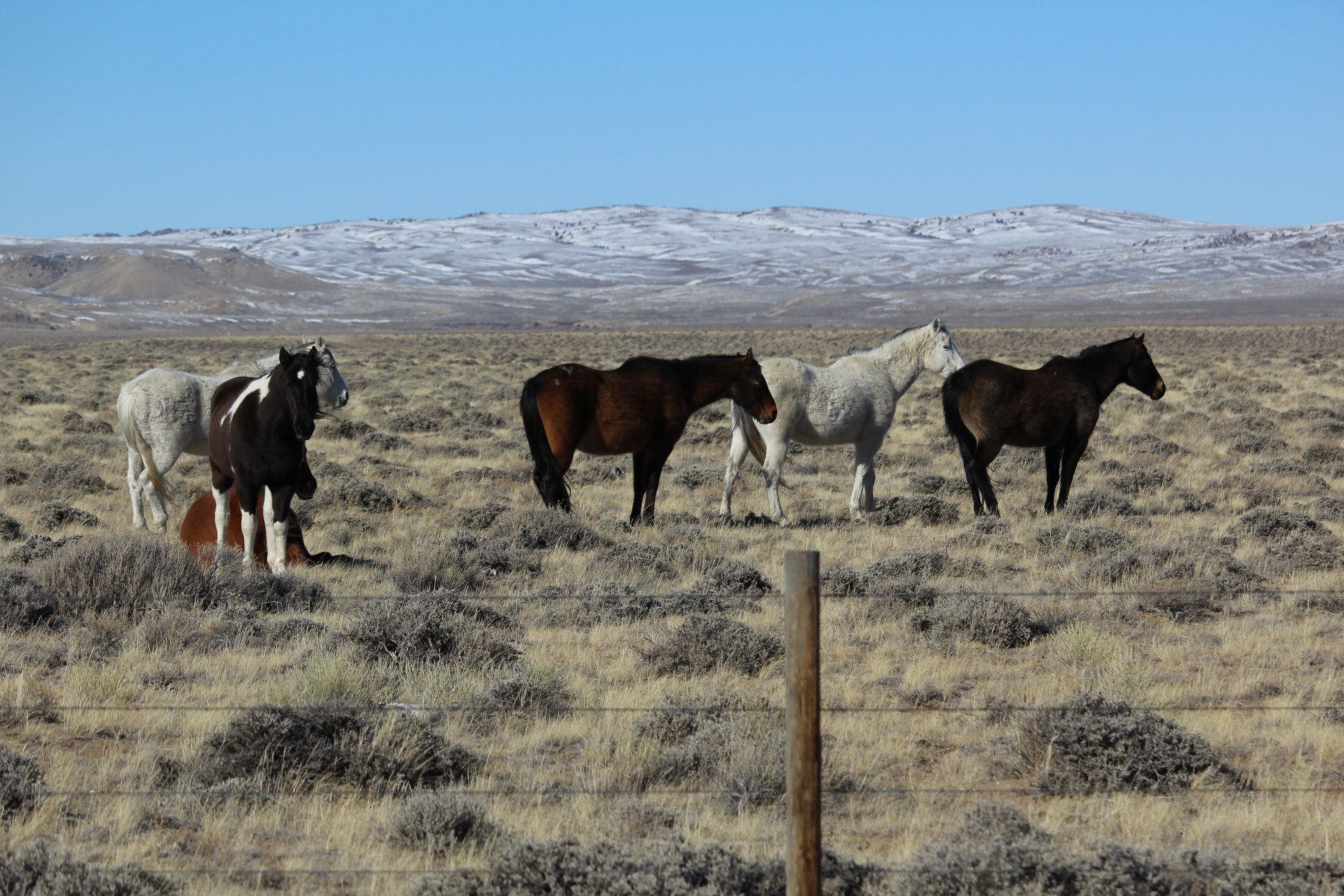 My book Finding Love at Compassion Ranch highlights the bond between humans and animals, including horses. Below is an excerpt:
Erin felt a soft nudge to her cheek and turned slightly. She heard a couple of intakes of breath as her eyes met the soft brown ones of the tri-colored paint horse. Erin also inhaled as the mare again nuzzled her face.

"Oh, Mom!" whispered Brittany.
A tear formed in Erin's left eye. She blinked and then slowly extended her hand toward the horse, letting her smell and rub. She scratched the mare's chin and caressed her soft nose. The animal leaned her face into Erin's. Tears gathered in Erin's eyes and trickled down her cheek. She felt Mike's breath and listened as he whispered into her ear, "She's chosen you. She's the horse I was most concerned about and now look at her. She needs you, and she knows you need her. Horses are smart that way."
"She's amazing," Erin whispered.
"So are you," Mike whispered back.
Erin glanced at him, and their eyes locked for a moment. Mike gave her a gentle smile. Erin turned away to again rub the side of the paint's nose. She caught Brittany staring at her. Erin gave her daughter a shy smile before returning her attention to the mare.
"You are a beauty, girl," she said in a low tone. "I hope we'll be friends."
Discover more of Erin's story when you purchase Finding Love at Compassion Ranch for just $1.99 as a Kindle book here: https://amzn.to/2AM7sLk. Also available in paperback.

And discover more about America's wild horses and burros through organizations listed earlier.